About Chinchilla Park Place

Located in British Columbia, Canada. We began breeding chins as a hobby in 1996. Our herd began with chinchillas from:
Bob Lowe - RNL Chinchillas
Bobby Young
Jack Danko
Jack Humphreys - Blue Vale Chinchillas
Jim Jensen
Jim Ritterspach - Chinchillas.com
Maryanne Holden - Chinchillas As Pets
Merv & Kay Krause - Pleasant Valley Chinchillas
Ryerson's Chinchilla
We first purchased chinchillas back in 1996. We got our first pair from a local vet clinic in January of that year. In June of 1996, we had our first litter born. From that point on, we fell in love with the kits and couldn't help but find more breeders near us. We soon had 11 chinchillas, from a rancher in Parksville, and a hobby breeder on Lasqueti Island. They are like family members, each and every one of them is unique in their own way.
We raised chinchillas for just short of twenty years, however have since retired from breeding chinchillas.
I also know many other breeders in Canada and the United States. If you want a chinchilla immediately, I would be more than happy to inform you of a breeder in your area that would have that chin available. I know of many good reputable breeders and would only recommend the best breeder in the area.
We also have a chinchilla stuff online store that has been open since 2001. You can find the link to the store on the left hand menu(click on store) or by clicking
here.
All our products in our store are 100% chinchilla safe or we would not sell them nor let our own chinchillas have them.
There is many toys to choose from, feed, hay cubes, dust, and much more. We are always adding new products, so do check back often!
If anyone has questions, concerns or comments, feel free to email me anytime at
[email protected]
lace.ca.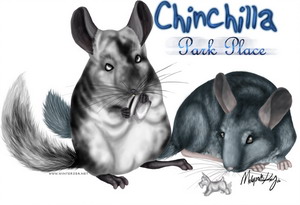 Anyone wanting to get custom pictures like this above, please
click here
to contact Melysah.





A forum for just chinchillas & their owners. Register now!


Handmade genuine gemstone jewelry.